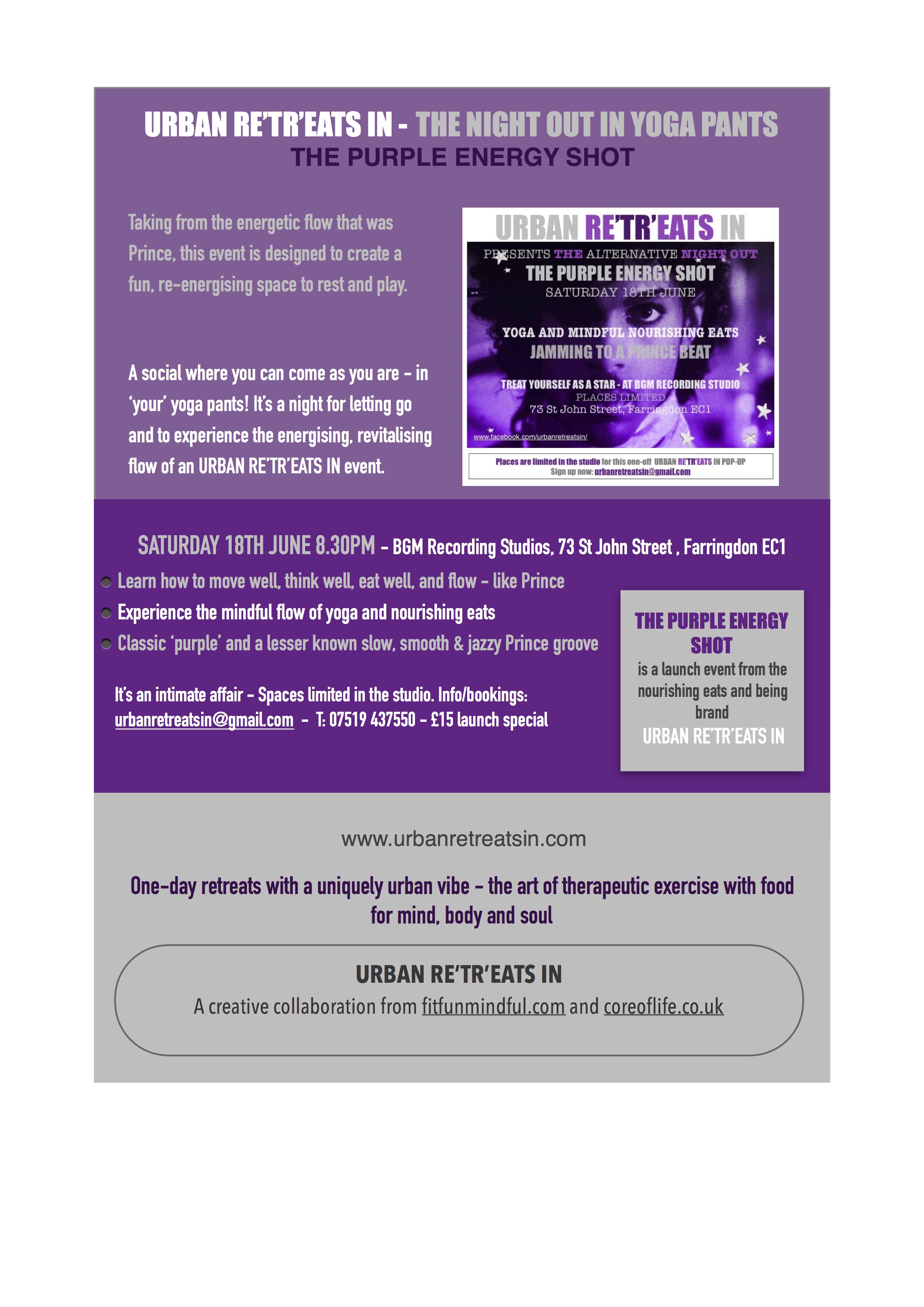 The theme of this launch event is taking from the energetic flow that was Prince. Come and learn how to move well, think well, eat well and flow like Prince! The playlist includes classic 'Purple' as well as lesser known, slow and jazzy Prince grooves.
more...
less...
JUNE 18TH & MORE NIGHTS LIKE THESE
This night out is about 'rest 'n play' - letting go and experiencing the energising and nourishing flow of an URBAN RE'TR'EATS IN event.
It's our launch, with many more nights like these to come, along with other workplace pop ups to create that flow between 'work, rest 'n' play'.
more...
less...
#NOYP #NightOutinYogaPants
Be there for the launch of this new trend in nights out and among the first to hashtag #NOYP - June 18th is where it starts.
Sometimes you want to socialise without having to get dressed up. So, this is an evening where the dress code is 'YOUR' yoga pants - and that's anything you might want to call 'YOUR' yoga pants...
Choose something without belts, buckles, buttons or anything tight around the waist, or that you can't stretch out your legs in. It can be, but it doesn't have to be the psychedelic skinnies.
Anything you can 'move and flow' in goes, be it track pants, stretch pants, sports shorts, ultra loose pyjama style ... (changing space available if you want to travel in street clothes)
In other words, if the pants fit - wear them, flow and let go. Then, leave feeling energised, re-vitalized and ready to flow into the next week (without the hangover)!

more...
less...
FOOD FOR BODY MIND & SOUL
IT'S URBAN, and it's a RE'TR'EAT all at the same time.
'TR'EAT'ING' yourself to some time out.
To some fit and healthy fun.
To some nourishing 'EAT's for your mind, body and soul. To time to re-connect.
To the art of therapeutic exercise.
To the insights to staying well and in flow - anytime, anyplace, even in the heart of the city!
more...
less...